Products for Sensitive Skin & Keratosis Pilaris Treatment (that Actually Work)
If you or your kids have Keratosis Pilaris, then you know exactly how hard it can be to find something that helps ease the symptoms.  Keratosis Pilaris causes haven't really figured out yet, and we know KP can't be cured. The good news is it can be controlled with the right Keratosis Pilaris treatment.
If you're looking for a list of products that can be used to treat KP, then you've come to the right place.  The following is a list of all the things you might need to combat Keratosis Pilaris in your family.  As you're well aware I'm sure, treating KP is a trial and error process.  Each product listed below was chosen because it has actually helped folks just like you treat their Keratosis Pilaris, but we are all unique individuals and not every treatment works for every person so you may have to be a little patient.  If what you've chosen doesn't seem to be working, try the next thing.  We know you can find the right treatment routine.  We are here to help.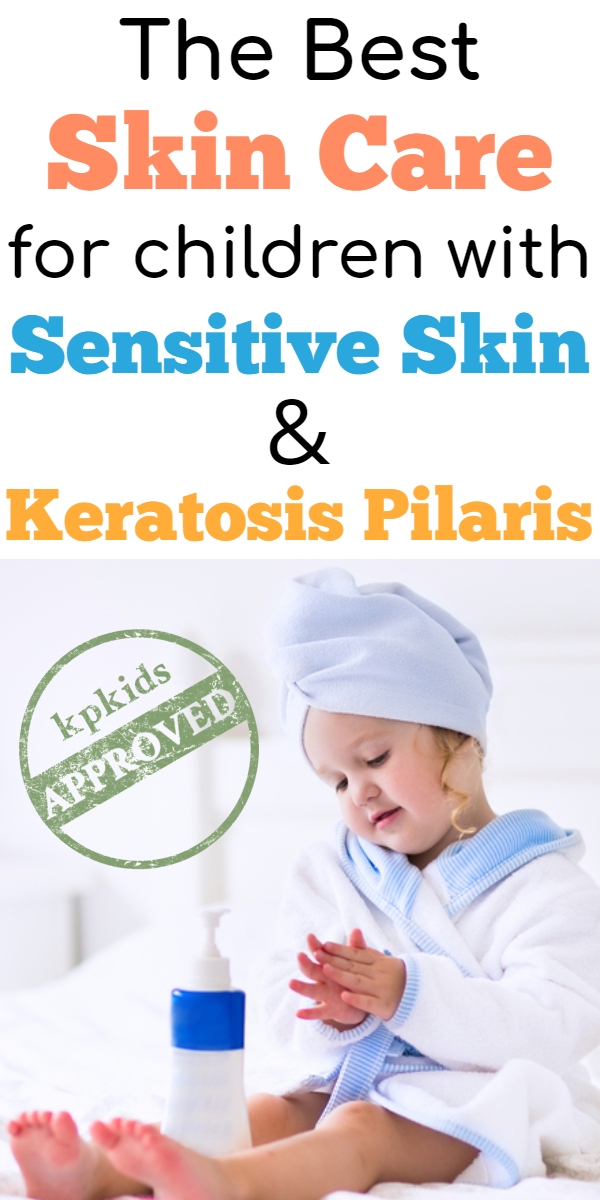 This post may contain affiliate links.  For more information, visit our disclosure page.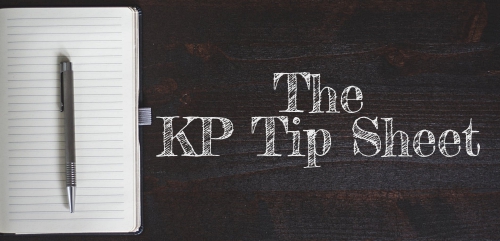 Click to get your FREE KP tip sheet!
Keratosis Pilaris Creams, Moisturizers, and Lotions
Finding the right moisturizer to treat Keratosis Pilaris is where you are probably going to spend most of your time and effort. There are so many options. Here is our list of kpkids approved moisturizers to treat Keratosis Pilaris skin.

All CeraVe products are developed with Dermatologists to create medical grade products that provide solutions for dry, irritated, or sensitive skin.  This National Eczema Association certified lotion has salicylic and lactic acids that work to soften the hard keratin protein buildup on the surface of the skin and helps get rid of it leaving skin smooth. The is great if your main struggle is keratosis pilaris on legs. The lotion also contains three of the essential ceramides (1, 3, and 6-II)–I know that sounds a little intense, but ceramides are healthy fatty acids that are the major component of the protective layer of our bodies cells.  So this CeraVe lotion not only helps remove the excess keratin but it also supplies extra protection for the cells of your skin.  CeraVe Rough and Bumpy is great at locking in moisture to keep working for hours after you apply it.  On top of all those benefits, this moisturizer is hypoallergenic and fragrance-free, making it perfect for treating Keratosis Pilaris.
PRO TIP: We would recommend using this for children ages 3+.  To treat Keratosis Pilaris in babies we recommend starting coconut oil first.
Here's another hypoallergenic and fragrance-free keratosis pilaris lotion.  AmLactin uses alpha-hydroxyl acid (AHA) to powerfully exfoliate and soften the rough skin associated with Keratosis Pilaris.  This guy does a great job of keeping your skin hydrated because it's packed with emollients that lock in moisture for hours.  AmLactin Daily is great to use as a routine moisturizer applying in the morning and evening.  AmLactin is recommended for ages 3+.
PRO TIP: As with any AHA product, AmLactin is not recommended for facial use. (Use this or this instead on extra sensitive skin) Using an acidic product can cause some stinging and irritation on sensitive or broken skin so use caution and discontinue use if you experience this and switch to a different moisturizer. Also, AHA can increase your sensitivity to sunlight so be sure to use adequate protection (you should be doing that anyway).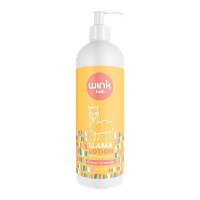 Wink Naturals is a great little company that is putting out a lot of great products that you can feel good about using for your family.  Their Llama Lotion is no exception.  It's super gentle and safe to use for treating Keratosis Pilaris in babies and toddlers.  This moisturizer is made of all-natural ingredients like coconut oil and essential oils.  This makes a great daily and even multiple-times-a-day lotion that will help keep your skin healthy.  Wink regularly run specials and discounts on their products and they offer nice savings if you signup for a subscription (I recommend signing up for the subscription either way; you get the discount and you can cancel your subscription before it renews–no questions asked). But if you prefer, you can get a lot of their products, including the llama lotion, on Amazon.
PRO TIP: This lotion is great for maintenance if your KP symptoms are under control or if you batting keratosis pilaris on your face, but if you are struggling with significant redness, bumpiness, or irritation you may want to look at using one of these healing ointments or a stronger moisturizer first to calm things down.

KP Away is different than most traditional Keratosis Pilaris treatment products on the market today.  This Dermatologist developed cream doesn't use acid based exfoliation but instead focuses on maximizing hydration and moisture retention in the skin.  This cream has only 7 ingredients and is completely free of harsh and irritating substances.  It's even the only product we've found specifically designed to treat Keratosis Pilaris that is safe for infants.  Parents in our Facebook group have tried and loved KP Away too so we think it's worth a shot especially if you want to avoid AHAs.  KP Away is available on Amazon or directly from their website.
PRO TIP: This one comes with a relatively hefty price tag, but it is a large jar (16oz) and the company claims it will last 6-8 months even with liberal use.

DERMAdoctor is a popular skincare brand and their products designed specifically for Keratosis Pilaris have helped a lot of folks just like yourself.  Their hydrating moisturizer boasts a study showing how their KP Duty moisturizing lotion doubled participants skin moisture levels after 6 weeks of use.  However, it was a small study and their website does not provide a ton of details on the study–so take that with a grain of salt.  This lotion is another AHA product that helps treat Keratosis Pilaris by softening and exfoliating the excess keratin.  The KP Duty line has several products you can use to fight KP including an exfoliating scrub.
PRO TIP: As with any AHA product, KP Duty is not recommended for facial use. (Use this or this instead on extra sensitive skin) Using an acidic product can cause some stinging and irritation on sensitive or broken skin so use caution and discontinue use if you experience this and switch to a different moisturizer. Also, AHA can increase your sensitivity to sunlight so be sure to use adequate protection (you should be doing that anyway).

Eucerin is another big name in medically-minded skin care.  This is their take on a moisturizing and exfoliating AHA lotion.  The Intensive Repair formula brings some powerful treatment for Keratosis Pilaris.  This lotion has a thick, rich feel and is fragrance-free to mitigate irritation.
PRO TIP: As with any AHA product, Eucerin is not recommended for facial use. (Use this or this instead on extra sensitive skin) Using an acidic product can cause some stinging and irritation on sensitive or broken skin so use caution and discontinue use if you experience this and switch to a different moisturizer. Also, AHA can increase your sensitivity to sunlight so be sure to use adequate protection (you should be doing that anyway).

Keratosis Pilaris coconut oil treatment is becoming a huge trend and it is perhaps the best natural treatment for KP.  Coconut oil is one of the most gentle and natural products you can use for your skin. It's safe for anyone at any age (as long as you don't have an allergy specific to coconuts–which is rare). You can find it almost anywhere and it can be used in a ton of different ways. We recommend using it right out of the jar as a moisturizer, or you can use it to make your own exfoliating scrub. You can also mix it with cocoa butter to make a moisturizer with a more traditional texture. Another huge plus is that using coconut oil to treat KP is probably the most cost-effective method out there. One big jar will stay good in your cabinet longer than it will take you to use it up.  Keratosis Pilaris natural treatments can be hard to find, but this will not disappoint.
PRO TIP: There are a LOT of options out there when it comes to coconut oil and you want to get the right stuff. We'll give you the full rundown soon in another post, but for now, we'll keep it simple. Look for a product that is organic, unrefined, and either virgin or extra virgin (for coconut oil the two terms mean the exact same thing).

Healing ointments for Keratosis Pilaris
Keratosis Pilaris arms and legs can make it hard to not be self-conscious especially if you're dealing with severe symptoms.   A healing ointment could be the best solution for you to relieve the inflammation that can accompany KP. These help ease the redness, irritation, and possible itchiness that often plagues us.  They are also great for all of the other skin irritations (think diaper rash, chapped skin, or even dry, cracked hands) we experience.

This healing balm is completely organic and natural, and it is safe for infants.  You can apply this to any irritated or broken skin to provide relief and start the healing process. Era has packed this balm with tons of healthy oils.  This product is great for Keratosis Pilaris that is out of control or really bothersome to your little guy or gal.
PRO TIP: As with most of these ointments, a little goes a long way.  Try to only apply it to the most irritated areas to make it last.

Here's another healing ointment that is perfect of babies or even the young at heart that are struggling with Keratosis Pilaris, eczema, or dry skin.  This plant-based emollient has a thick and creamy texture and provides ultimate hydration for relieving all the itching, burning, or roughness associated with common skin conditions.  Stelatopia balm is 100% free of parabens, phthalates, phenoxyethanols, steroids, and fragrances.
Many parents are acquainted with Aquaphor.  It's probably the most recommended brand for skin care for babies by pediatricians.  The ointment is great for diaper rash, drool rash, or other minor skin irritations.  It's hypoallergenic and safe formula coupled with it's healing promoting skin protection make it perfect for times with Keratosis Pilaris is really angry.

Wink Naturals Bum Balm is another big win for them.  This is the only diaper rash cream we use, but we've also found it useful for the really irritated bumps that pop up with our kid's KP.  Bum Balm is super thick and a little bit messy, but once it gets it in place it will stay put and keep on protecting the skin underneath.  Just like the Llama Lotion, you can save a little bit by signing up for a subscription on the Wink site, or you can simply buy it on Amazon.

Soaps and Body Washes for Keratosis Pilaris
If you remember from the KP Crash Course, bathing is a crucial part of treating Keratosis Pilaris, but finding a soap to use that isn't going to make the irritation and dryness worse can be a challenge. These soaps and body washes are gentle and safe to use on even the most sensitive skin. Whichever you choose, remember to not go too crazy…a little goes a long way.

African Black Soap has been used to treat eczema and psoriasis for years, but recently it has become a popular soap for Keratosis Pilaris too.  In fact, it is one of the most mentioned products in our Facebook group.  The shea butter helps to cleanse and calm irritated skin without drying it out.  And if you prefer, there is also a liquid body wash version too. 

Norwhal soap (as its affectionally known in our house) is a great way to clean up at bath time.  It is an all-natural product that is gentle and doesn't dry out your skin when you use it, and it smells fantastic.  On top of all that, if you put a few extra pumps under the running water in the tub, you get a bubble bath that is safe for sensitive skin–now that's hard to find.  Unfortunately, this is one of the Wink products that isn't listed on Amazon, so you'll have to order through their website.
This is body wash is great for helping keep skin moisturized while also being a good gentle cleanser that is good for hair and body.  Aquaphor is a trusted brand and highly recommended by parents and pediatricians alike.  Their gentle, tear-free formula is safe even for newborns and is significantly better than the J & J stuff that most of us are familiar with.

Don't let the name fool you, this California Baby's shampoo/body wash combo is perfect for newborns all the way up to adults.  It is free all the harsh chemicals, parabens, fragrances that we like to avoid, and on top of that it is gluten, dairy, and soy free so it is extra gentle.  This cleanser also has some mighty cleaning power so you can use it for anyone in the family that has sensitive skin issue like KP.
With this product, CeraVe has taken all the benefits of their SA lotion for rough and bumpy skin and mixed it in with gentle cleansing soap.  Salicylic acid provides some extra exfoliation while you scrub.  Like the lotion, this formula is fragrance-free and gentle and does not contain beads and grains as physical exfoliants.  This product probably shouldn't be your first choice for treating Keratosis Pilaris, especially for young kids, but it can provide some extra help if you are struggling to find the right routine.
Need help getting started?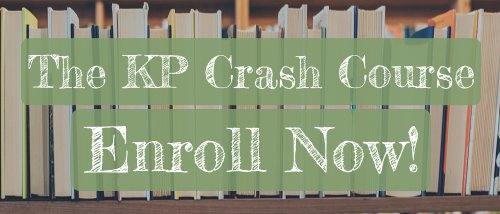 Click to sign up for the FREE KP Crash Course!
Scrubs for Keratosis Pilaris
Scrubs are a good way to physically exfoliate your skin without using chemical exfoliators. You will probably have the best luck using a scrub every 2-3 days at the end of bath time. Scrubbing too frequently or too vigorously can actually cause increased inflammation and Keratosis Pilaris does not like inflammation.   Here is our list to get you started:

This body scrub is best used during the shower or bath and helps by physically exfoliating the excess keratin associated with Keratosis Pilaris.  KP Elements contains exfoliating beads along with natural extracts and essential oils to keep the skin healthy while treating your KP.

We love their African Black Soap, and the sugar scrub from Shea Moisture is almost just as good.  This scrub has an organic, raw shea butter base and promotes healthy skin by exfoliating, moisturizing, and cleansing dry, rough patches.  This scrub is also packed with frankincense and myrrh essential oils to even better help promote healthy skin.  Use it sparingly on your roughest areas of Keratosis Pilaris to help remove the excess keratin.

Here's another scrub with a shea butter base, but what's different about this guy is that it uses Himalayan Pink Salt to exfoliate skin.  This scrub is all natural and made with organic ingredients like jojoba and avocado oils and it is completely free of all the yucky stuff like parabens and phthalates.  Get some and start scrubbing away the KP as soon as you can!

Or better yet…make your own! (it's super easy)
Here's what you'll need:
Just mix it all together in a glass jar and keep it by the tub for easy access. (If you have trouble mixing it together, you could heat up the coconut oil slightly–sometimes just holding the jar of coconut oil tightly in your hands is enough to soften it.)

Exfoliation for Keratosis Pilaris
The scrub products we mentioned above aren't for everyone.  Even if you get the best, most gentle product out there, it may still cause some irritation, and some folks just don't want to use something like that–which is totally fine.  You can still exfoliate Keratosis Pilaris prone skin to reduce keratin buildup.  The next section covers items that allow you to physically exfoliate without the use of another jar of some skincare product.  They are loofah substitutes that can help you lather up the soap at bath time and provide gentle scrubbing power without a lot of elbow grease required.  Another benefit of these exfoliating solutions is that they should last you a lot longer than even the biggest tub of sugar scrub.

Norwex makes some great household and kitchen cleaning cloths, and now they have a microfiber cloth that is a perfect way to gently exfoliate if you have Keratosis Pilaris.  These body cloths are soft yet scrubby and are perfect for anyone with extra sensitive skin.  Perhaps the best thing about a Nowex cloth is their Bac-lock technology that inhibits bacterial growth on the cloth to keep you from spreading around yucky germs.  And if the cloth ever gets dirty, just toss it in with the laundry and you'll be ready to go again.

This scrubbing mitt for bath time is another great exfoliating tool that comes recommended by parents in our Facebook group. Supracor has developed a lightweight, simple mitt that gets the job done. You just need a tiny dab of soap to be able to work up a good lather so it might even be able to help you use less body wash in the long run. The open-netted design allows the mitt to dry super quickly to impede the growth of fungi or bacteria.

Here is another great sponge to use for anyone in your household.  These are made completely from organic plant products and do not have any hard chemicals that would potentially cause skin irritation.  They are easy to hold and have a string that allows you to hang it up to dry.  You can use this sponge with just the tiniest amount of soap and be able to get your little one clean.  They are so effective, in fact, that you can get clean without using any soap at all!  These things are great and are another favorite of the kpkids community.
Sunscreen and Bug Spray
Being outside is great! But when you have KP to deal with, you have to take some extra precautions to protect your skin. These guys can do just that.

Sunscreens from Thinksport are arguably the best sunscreens on the market regardless of your sensitive skin issues.  They take an honest, proactive approach to creating safe-for-you products that actually work.  Their Thinkbaby sunscreen is perfect for your baby with Keratosis Pilaris.  This mineral-based sunscreen has over 50 SPF and is water resistant for up to 80 minutes! And just in case you didn't know…you need to use sunscreen more than you think you do…
PRO TIP: Thinksport products come in stick form too!

Here is the big kids' version of the Thinksport Sunscreen.  It's easy to apply and it doesn't have that weird "sunscreen smell".  A high-quality, safe sunscreen is a must for everyone especially if you have sensitive skin issues like KP.
PRO TIP: Thinksport products come in stick form too!
If your KP kid is a 13 or older, you should probably choose this version from the Thinksport line. It has all the benefits that make this company great but with a slightly more robust formula that is better for active teenagers and adults. By far, this is the best sunscreen for people with sensitive skin issues.

CeraVe is a trusted brand for skincare and a favorite of a lot of families with Keratosis Pilaris.  Here is their stick sunscreen that is good for sensitive skin and contains ingredients to help lock in moisture for skin.  It provides broad-spectrum protection and is water resistant for up to 40 mins. If you like CerVe, this is the sunscreen for you.

Here is another great sunscreen that is safe for babies and children.  It provides broad-spectrum protection and is water resistant for 80 minutes.  And the best part is, it's made from organic, plant-based oils without all of the harsh chemicals and nanoparticles that give sunscreens a bad name.  This is a great sunscreen choice for babies with Keratosis Pilaris.

Here is an all-natural bug spray that you'll feel good about using on your baby or child no matter how young they are.  It's made up of all natural oils and uses essential oils like citronella and peppermint to deter creepy crawlies and pesky mosquitoes.  Every bug spray I've tried makes my skin burn especially if I start to sweat, but this one never does!
Final Thoughts on KP Products
Keratosis Pilaris in toddlers, babies, and children can be such a frustrating experience, but with a good plan and some good guidance, you can effectively treat KP!  We hope this list helps clear the muddy waters for you some.  We are here to help in any way we can.  Reach out to us via email or Facebook with any questions you have and be sure to join our private Facebook group full of KP parents just like you.
Need help getting started?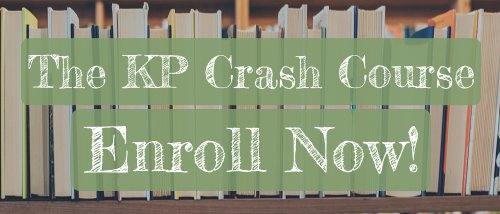 Click to sign up for the FREE KP Crash Course!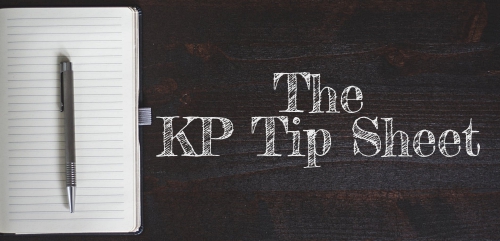 Click to get your FREE KP tip sheet!
NOTE: Always read labels and directions before using any product. Consult your doctor or dermatologist for specific advice about keratosis pilaris.
DISCLAIMER & TERMS OF USE:  Any and all information on this website is for informational purposes only. Please seek professional medical help for proper diagnosis and treatment of your (or your child's) skin condition. Any products or services advertised here are for informational purposes only and their effectiveness will vary from child to child. You are encouraged to consult a physician or dermatologist to determine what treatment plan will work best for you or your child.  Some links within our website are to Amazon products and we will receive compensation when you make a purchase. Thank you in advance for your support of KPKids.